India Venster has seen a surge in popularity over the past 5 years. Arguably the best half-day Table Mountain hiking route, it offers exciting hiking, dramatic settings and superb views. But as the ranks of hikers have swelled, so has the amount of online information about the route. Opinions vary greatly, from terrifying to sensational, tough to easy. The clutter of opinions can be bewildering. So, what's the reality?
The short answer: it differs for each person. To simplify matters and get a more or less accurate answer, we will assess the route according to the abilities of the average person: average head for heights, average sense of adventure, average balance, average agility, average fitness. Just because one person had an ordeal on the route doesn't mean you will; and conversely, just because one person found the route easy and chilled doesn't mean you will.
Most of the opinions you read online about India Venster – and for that matter, every other Table Mountain hiking route – is the subjective opinion of the writer. The writer either lacks objectivity through only having done one Table Mountain hiking route; or he / she lacks empathy, not realizing that people have different abilities and mindsets, resulting in a different experience of the same activity.
As a Table Mountain hiking guide, I've guided thousands of people of every increment of ability up India Venster, and in all weather conditions. This gives me objectivity. I know what constitutes average ability, and as such can provide an objective and balanced assessment of the route. And with more than a decade's full-time experience as a mountain guide, I bring a lot of empathy to the mountain.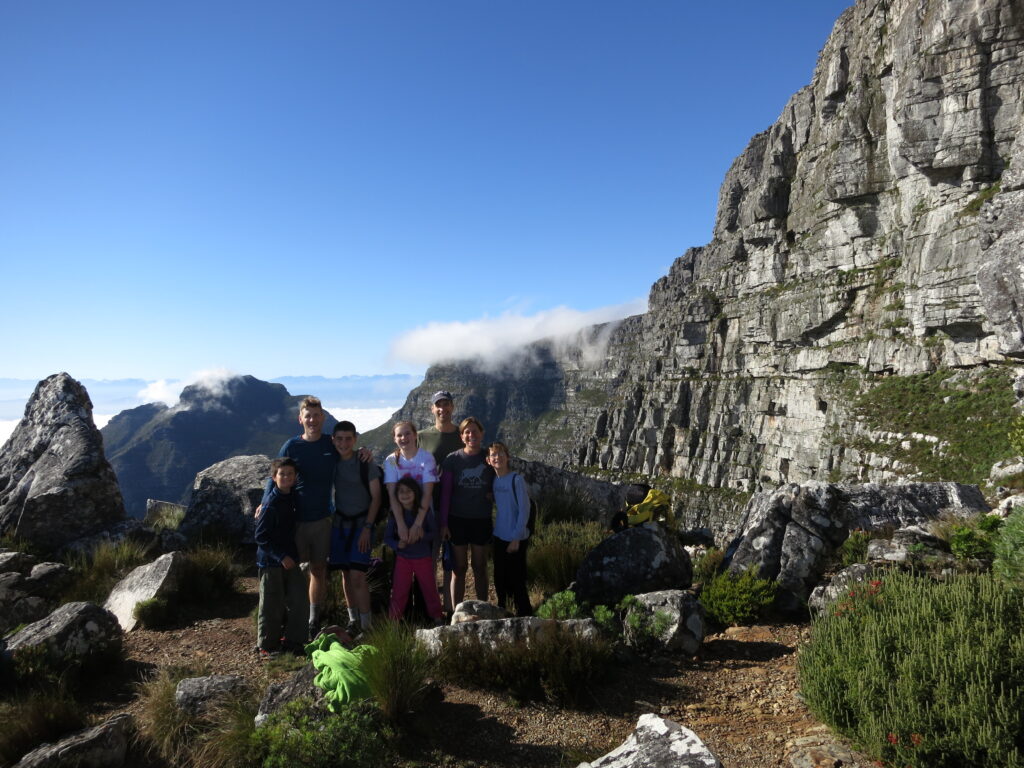 When it comes to hiking Table Mountain – really, any activity or tour you participate in while vacationing in a foreign country – the primary goal, to the average person, is to have fun. You have your outliers, people who defer fun to obtaining a sense of achievement, achieve personal growth, overcome a fear, prove something to someone, those who indulge their masochist streak, etc. But to the average person, having fun is the main objective. It follows then that the question should not be whether you could do India Venster, but whether you will enjoy it. Those are altogether different matters. With the assistance of a competent and patient mountain-guide, the vast majority people could complete India Venster, with enough grit and enthusiasm on their side, and motivation and instruction on the side of the guide. However, maybe only half those people will end up enjoying it.
A person of average ability – balance, fitness, head for heights, motivation and agility – will very likely enjoy India Venster with the assistance of a competent guide. Lacking in any of the aforementioned faculties will make the route more challenging, requiring more perseverance and determination to compensate. Some people's suffering is another's enjoyment, which makes it even harder to give a definitive verdict on the route.
A moderate fitness level along with a moderate head for heights, combined with a competent mountain guide, will likely result in a highly enjoyable experience on India Venster. Having said that, I've had people who were terrified of heights, but enthusiastic and adventurous, topping out on India Venster swearing it to be the best thing they've ever done. Your personal psychology – motivation, determination, sense of adventure, willingness to step outside your comfort zone – play a huge role. The route is less strenuous than many other Table Mountain hikes, so requires nothing more than moderate fitness.
The two components that make India Venster challenging are the exposure to heights and the scrambling. These occur along about 15% of the route. Let's take a closer look at each.
Exposure to heights means the proximity to sheer drop-offs. Think narrow ledges. Sometimes you walk along them; other times, you climb up from them. To a person with an average head for heights – try to imagine the midpoint between terrified of heights and impervious to heights – will find India Venster adventurous and fun, somewhat spicy yet thoroughly enjoyable with the assistance of a competent guide. If there's a level to extrapolate from, then that is it. Hundreds of nuances exist. If you are "okay with heights", or "so-so" with heights, or "have a slight aversion to heights", or thereabouts, and you are up for a challenge / have a moderate sense of adventure, you will very likely enjoy India Venster. Those nervous of heights will take mental strain and therefore need determination and a sense of adventure to see you through, allowing them at the very least to achieve a retrospective enjoyment. If you are afraid of heights, the route is not for you – except if you're a masochist or if you're determined to brave your fears. A competent and experienced mountain guide will get you up there in one piece, but you will be afraid at times, possibly terrified.
Scrambling can be defined as elementary climbing. It's the grey area between walking and climbing. Shades of grey exist: some consider easy scrambling as steep hiking; others consider hard scrambling as easy rock-climbing. The scrambling on India Venster is intermediate. Moderate. You don't need experience and you don't need to be strong. With timely assistance from the guide, the scrambling is very doable. If you are nervous of heights, the scrambling will feel harder, as fear inhibits free movement.
India Venster ranks as one of the best half-day routes to the summit of Table Mountain. It offers superb views and dramatic scenery spiced with adventure. It's less strenuous than many other Table Mountain hiking routes, and a cable car descent lands you back at the starting point without transport logistics. An early start in summer – highly recommended to beat the heat – will see you down by 10am (with a cable car descent), so you can expect to be back at your hotel in time for breakfast and with the afternoon free for sightseeing.
When considering India Venster as a Table Mountain route, remember to extend your consideration beyond yourself to your partner, your friend, your family members – whoever will be joining you on the hike. Just because you're up for the route, and perfectly capable of enjoying the scrambling and heights, doesn't mean others will. This prevents frustration and disgruntlement along the route.
Some people simply don't know if they are good or bad with heights. They might suspect they're bad, but unsure exactly how bad. They don't know where they rank in the scheme of things – compared to other people – because they've never been exposed to heights on a mountain. This is one advantage of making use of a (competent and experienced) mountain guide. Based on your answers to a few telling questions, we will be able to advise whether you will enjoy India Venster or not. If not, we will make route suggestions. If unsure about your abilities, consult us for a pre-hike assessment that will put your mind at ease.
Finally, refrain from evaluating the route based solely on photos or videos. Certain angles make positions on the mountain appear scarier than they really are. Conversely, scary positions often show up on photos as pedestrian. Don't base your decision on what route to take on an image or even a video. They can be very deceptive. Mountainous terrain creates many opportunities for optical illusions.
Despite all the glowing reviews and lyrical write-ups about India Venster, don't think that it's the end-all of Table Mountain hiking. If you're not good with heights, or you simply don't like them, and you're not prepared to step outside your comfort zone, there are many other route options available that offers superb views and pristine nature.
© www.hiketablemountain.co.za